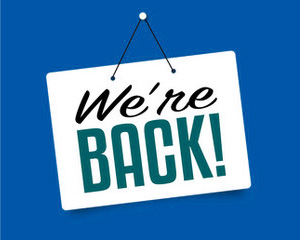 Grand Reopening Updates & Information
We're back! It's been a long couple of months, but Massage 1 was finally given permission by the Governor of Nevada to resume operations during Phase 2 of the Nevada reopening plan. We've been super busy the last few days making sure everything goes smoothly for our reopening. We've had to implement a lot of changes moving forward, but we're trying our best to resume business as usual.
One of the bigger changes we've had to implement is of course precautions to help protect our clients and staff from the coronavirus. Massage 1 is all about smart, effective protection. We're taking all of the guidelines from the state and local agencies and combing them together to ensure we are creating a safe environment for all.
Before we start listing all of our changes, we'd like to take the opportunity to remind all of our clients that you cannot get infected from the coronavirus from getting massaged! The virus does not enter the body through skin-to-skin contact. You can of course pass the virus to another individual this way, but the only way it can infect you is through things such as your eyes, nose, and mouth. That's why proper hygiene and not touching your face are so crucial! With those measures in place as well as our additional precautions, the chance of anyone getting infected from massage is extremely low.
CLIENT SIDE CHANGES:
• All clients will be required to wear a face mask when receiving face up massage services. We'd prefer you to wear a mask for your whole visit, but we understand it can be exceedingly uncomfortable to wear a mask when face down. For this portion of the service, removing the mask is okay. We are providing disposable masks for the face up service if you do not bring your own.
• No clients will be permitted to wait in the lobby or quiet room before, during, or after their services. If any clients arrive more than 5 minutes before their scheduled service, they will be asked to wait outside (or in their car) until it is time for their service to begin. Clients should plan to arrive as close to their service time as possible. Unfortunately we will not be able to allow anyone accompanying the client to wait inside while they are receiving their services.
• Blankets will no longer be used during sessions unless specially requested. We have always washed all linens that touch the client after every session. However, blankets usually have no direct contact with the client and are washed at the end of the day. To be extra careful however, we won't be using any blankets for the time being just in case. We unfortunately don't have enough supply or capacity to wash blankets every hour, so we are going without them for now.
In addition to these new rules, we are implementing the standard social distancing precautions you have seen at many other places at this point including lines on the floor, disinfecting surfaces constantly, etc. If you decide to pay us a visit soon, you'll definitely see all of the changes we have implemented first hand. 🙂
STAFF SIDE CHANGES:
• All of our staff is required to wear a mask at all times during your visit.
• Extreme washing and disinfecting is now taking place between all sessions. Of course therapists always washed up thoroughly between sessions, but now we are taking it one step further. Any surface a client or staff member touches in the massage room is disinfected after every single session.
• Our staff members are required to get tested if they feel sick or show any symptoms whatsoever. They will not be allowed to return to work until we receive their test results back and they are negative.
PRICING CHANGES:
The last change we need to inform you of is in regards to our pricing. Massage 1 has had the same low pricing for over 5 years. We've always prided ourselves on offering an extreme value in the industry. We offer high quality massage and longer sessions at lower prices than most of our competitors. However, with recent happenings, it has gotten harder and harder to keep our Signature low prices. Over the years we've had increased costs we've had to incur without raising our prices. Many of our therapists have been with us for years, and we're proud to be offering them things like higher pay, paid time off, and health insurance. Combine that with increased rent and operations costs over the years, and it's getting more difficult to keep operate at our current price ranges.
Now with the coronavirus striking and devastating many small businesses, we have no choice but to raise our prices slightly to help compensate with what's going on in the world. From this point on, we'll be instituting a $10 increase on the base price of all of our massages. That means that from now on, our Signature 1 hour price will be $69.99, and our regular price for the 1 hour will be $79.99.
Thank you to all of our clients that have supported us over the years. We hope you will continue to do so and understand why we have made this decision. We believe that even at these prices we are still offering one of the best values around. Many people forget that we offer true 60 minute massage here. Those extra 10 minutes alone make our sessions 17% longer than our competitors. And even with that perk, our prices are still the same if not lower than our competitors. Remember, we don't charge more for services like Deep Tissue. Many places try to hide their pricing with tricks like this. We've always been straight forward.
And finally, we will still be honoring our old pricing for any clients that were affected by the closure. If your appointment was cancelled or your Signature pricing expired during our closure, we are going to honor your $59.99 rate for your next visit. We'll also be honoring it for any appointments already booked in June. However, any pre-made bookings after June, or any new bookings after today will be subject to the new prices we have discussed above.
Thank you again and we hope to see you soon!